Next Match
Facebook Gallery
Chelsea Football Club
Friday, September 21st, 2018 at 6:47am
Up and running in the UEFA Europa League! 🙌
Latest News
Latest You Tube Videos
Rudiger & Hazard Loving Funny Team Photoshoot! 😂| Chelsea Unseen
Rudiger and the squad get the giggles during the annual team photoshoot, Ji calls for VAR in training, John Terry trains with the development squad and Gilmour & Gallagher show off their incredible skills. Subscribe: http://che.lc/YTsubscribe

Download the 5th Stand:
- App Store https://apple.co/2vvlN9t
-Play Store http://bit.ly/2MfNJHX

To watch more EXCLUSIVE Chelsea content go to: http://che.lc/YTwebsite

Follow us on Instagram: http://che.lc/YTinstagram

Follow us on Facebook: http://che.lc/YTfacebook

Follow us on Twitter: http://che.lc/YTtwitter

Junior fans can watch exclusive content on our BridgeKids website: http://che.lc/YTbridgekids

Get Your Merchandise Here: https://swoo.sh/2ul9ytk


Welcome to the official home of Chelsea Football Club on YouTube. It's the only channel where you'll get an authentic look at life at this great club. Every week we'll be uploading fresh content from the training ground, our famous stadium and much, much more. Nowhere else will you get closer to world-class stars like Eden Hazard, David Luiz, Willian, Pedro, Alvaro Morata, Cesc Fabregas & N'golo Kanté.

ABOUT CHELSEA FOOTBALL CLUB
Founded in 1905, Chelsea Football Club are the current FA Cup holders. In its rich history, Chelsea's many successes include 5 Premier League titles, 8 FA Cups and 1 Champions League, secured on a memorable night in 2012. Famous former Blues include Peter Osgood, Gianfranco Zola, Dennis Wise, John Terry, Frank Lampard & Didier Drogba.
Latest Facebook Posts
Chelsea Football Club
Saturday, September 22nd, 2018 at 1:56am
Latest Tweets





Friday, September 21st, 2018 at 7:34pm
Highlights from yesterday's win are available to watch in our app!

📲 https://t.co/zhGX5RrZrE #PAOKvCFC https://t.co/lhl8OOmluL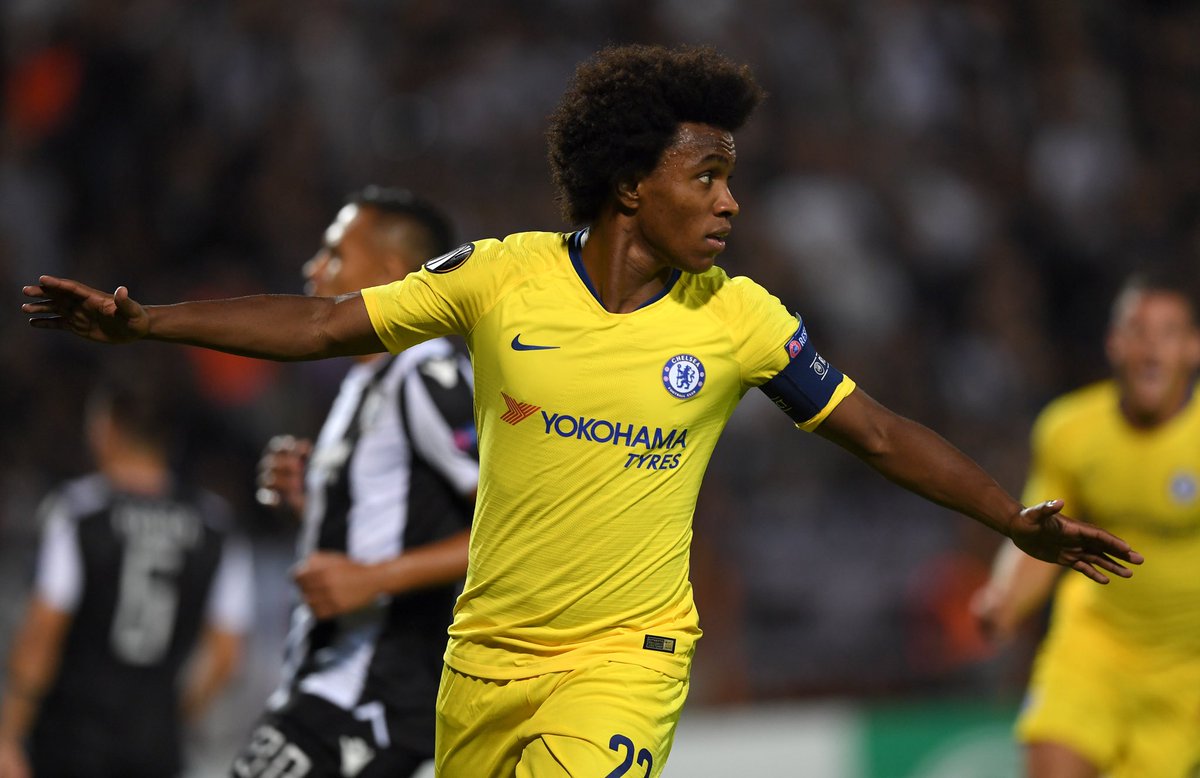 Instagram images